Coverup Emerged
July 28, 2003
On July 29 a coverup emerged, where the monitors were turned off for a time, in step with under-reporting of earthquakes:
With all the serious shaking going on, now HAARP has not shown the the three data points since before the morning of the 28th! And IRIS Seismo Map has not shown anything alledgely for at least 24 hours for the big red circles. All we have now is the European Seismo list which is already staggering this morning on July 29. A 7.0 in and near the very scarey Canary Islands, a high 6 in Portugal. ... Seems to be the pattern. Earth´s magnetic field goes bonkers, Earth starts quaking, sites go down or info dissapears. ... I suspect some funny business went on with the Euro site as well on the 28th. Activity dropped off too fast once again. This only serves to confirm some kind of a cover up. What are they hiding? ... HAARP magnatometer going off the chart now.

Postings on godlikeproduction Message Board
On the Summary chart: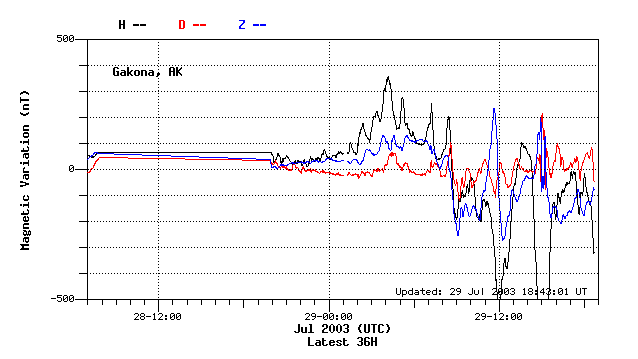 And on individual readings.