Wooden Barrels
---
As far as wood barrels go, there are quite a few that I found while cleaning the basement at the nonproft headquarters. It seems that the key lays in the bowed shape of the boards. When assembled, two metal rings are forced from each end toward the center. This squeezes the boards very tightly. When water is added, the boards are squeezed even more tightly as they absorb the moisture. Now, how were the boards bowed? I don't really know, but I expect by heating while the wood is still green, or maybe after soaking for several days, and then placing them in some sort of jig to hold them in shape until they take a set.
Offered by Ron.
If you ever find yourself in the Lexington area of Kentucky (interstate 64) check out the Pleasant Hill Shakertown Village, though there are many Shaker villages in Kentucky. The restored Shaker religious community has live exhibits of people making barrels and furniture, spinning yarn, and broom making to name a few. During the 1800's it was a thriving religious community that was self sufficient and sold many goods that it made around the country. The barrel making was particularly interesting as well as the tools they used.
Offered by Steve.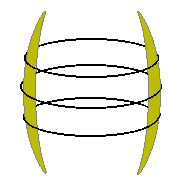 Doing this type of trade is called coopering. You might inquire at Willaimsburg, Va. They do this as a show for the old village.
Offered by Ivy.
I have watched a cooper at work when we visited a tourist village called Old Sydney town. The craft of cooperage is a highly skilled craft. The wood they use for the staves is air dried for at least 1 year and then kiln dried for around 3 weeks, the staves are then shaped with a long curved blade with handles at each end. When the staves have been shaped, narrow top and bottom, wider in the middle, and the edges beveled to fit together in a ring the staves are fitted into a metal hoop then a temporary hoop is placed further up the staves, the barrel is then steamed in a steam tunnel to soften for final shaping, the barrel is then dried in a kiln. This of course is an overview and does not address the complexities of the craft. They are not coated with anything as the liquid they hold swells the wood and makes them waterproof, there are other barrels made called loose casks for storing dry goods which are not waterproof.
Offered by Jan.