Domino
---
For over a year I've been saying we would start to have domino earthquakes, meaning that the plates are so tightly compressed together (due to the up-tick in deep earthquakes that have occurred since 1985) that any change reverberates around the world, quickly. Lately I've noted that they seem to come in bursts, all over the world. I noted it starting about 6 months ago, and now during and after the 7.6 quake in Turkey it seems to be evident, so I did some research. I searched the CNSS Earthquake Catalog for quakes 5.0 Richter or greater, during a comparable time during August of 1998 and 1999.
catalog=CNSS
start_time=1998/08/17,00:00:00
end_time=1998/08/22,23:59:59
minimum_magnitude=5.0
maximum_magnitude=9
minimum_depth=0
maximum_depth=100
event_type=E
Both these 6 day periods conveniently have a 7.0+ quake in them. What the statistics show is that a year ago quakes did not seem to be related, or were only locally related, when they occurred close together in time. The statistics and map for 1998 is below. There was no reverberation around the world.

Offered by Nancy.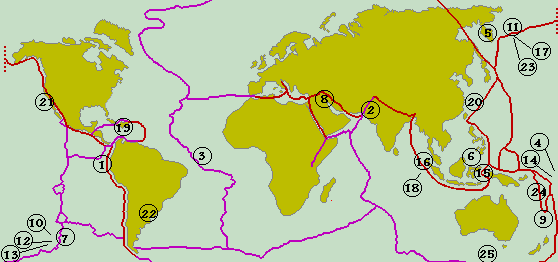 | | | | | | |
| --- | --- | --- | --- | --- | --- |
| Date | No. | Location | Lat. | Long. | Mag. |
| 8/04/98 | 1 | Ecuador (off shore) | -.059 | -80.39 | 7.2 |
| 8/05/98 | 2 | Pakistan | 29.32 | 68.74 | 5.4 |
| | 3 | Brazil (off shore) | 5.90 | -33.08 | 5.2 |
| | 4 | Somoa (western) | -21.47 | -178.03 | 5.3 |
| | 5 | Kamchatka | 56.16 | 163.36 | 5.3 |
| | 6 | Indonesia | 6.49 | 125.98 | 5.3 |
| | 7 | Pacific (near Antartica) | -54.67 | -135.52 | 6.2 |
| | 8 | Iraq | 33.20 | 46.25 | 5.6 |
| 8/06/98 | 9 | New Caledonia Is. | -21.84 | 169.81 | 5.5 |
| | 10 | Pacific (near Antartica) | -54.39 | -135.95 | 5.4 |
| | 11 | Bering Sea | 51.66 | -177.28 | 5.1 |
| 8/07/98 | 12 | Pacific (near Antartica) | -59.45 | -151.03 | 5.3 |
| | 13 | Pacific (near Antartica) | -59.58 | -150.71 | 5.9 |
| | 14 | Fiji Is. | -20.50 | -177.72 | 5.4 |
| 8/08/98 | 15 | Indonesia | 0.22 | 122.24 | 5.2 |
| 8/09/98 | 16 | Indonesia | 7.34 | 94.35 | 5.4 |
| | 17 | Bering Sea | 53.00 | 171.13 | 5.2 |
| 8/10/98 | 18 | Indonesia | 7.32 | 94.30 | 6.0 |
| | 19 | Dominican Republic | 18.64 | -70.54 | 5.2 |
| 8/11/98 | 20 | Taiwan (East China Sea) | 25.01 | 123.01 | 5.4 |
| 8/12/98 | 21 | Los Angeles | 36.75 | -121.46 | 5.35 |
| 8/13/98 | 22 | Uruguay | -58.78 | -24.87 | 5.5 |
| | 23 | Bering Sea | 53.06 | 171.10 | 5.0 |
| 8/14/98 | 24 | Solomon Is. | -11.43 | 166.21 | 5.8 |
| | 25 | South Pole (magnetic) | -63.60 | 147.48 | 5.5 |